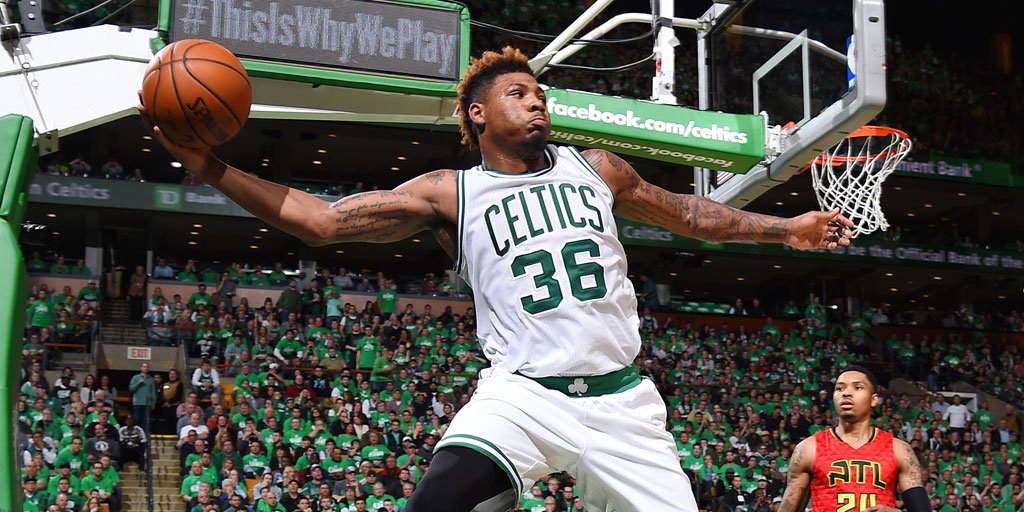 "His aggressiveness, his competitiveness, his spirit….our team needs it"
Those were the words of Celtics head coach, Brad Stevens when asked about the off the bench performance from Celtics G, Marcus Smart.
Smart finished game 4 with 20 points, 8 rebounds, 5 assists, and 2 steals in 41:31 minutes on the floor.
Smart scored 13 of his 20 points in the 4th quarter alone which turned out to be a crucial point for the C's chances of falling 3-1 to Atlanta in the series.
Boston managed to escape a dominant and historic performance by Atlanta Hawk, Paul Millsap who finished the game with 45 points, 13 rebounds, and 4 blocks. and appeared a bit off for the first 3 games of the series.
Millsap is the first Atlanta Hawks player to score over 40 points in a playoff game since…….yup NBA Hall of Fame Legend, Dominique Wilkins back in 1988.
However despite Millsap's historic offensive performance, the Celtics managed to comeback after being down as many as 16 points late in the game.
The Hawks had the final possession with 15.0 seconds on the clock and G, Jeff Teague mishandled the ball and failed to even get a shot off.
In OT, Boston got on top with an early 4-point lead and took control of the game from there. Jonas Jerebko makes the most of his start on the court with another double-double night (16 points, 10 rebounds) to push the Celtics to a home win.
Isaiah Thomas finished the night with 28 points, 4 rebounds, 6 assists, and a steal while Evan Turner added 17 points of his own.
The series heads back to Atlanta as Boston did their job at home. They will now need to find a way to escape Atlanta's homecourt with a victory in order to at least force a game 7 back at the TD Garden.
Game 5 from Atlanta will be on Tuesday.