The Boston Celtics find themselves down 2 games to none heading into game 3 of the Eastern Quarterfinals.
Brad Stevens' Celtics now get set to take on Atlanta at the TD Garden where they won 28 of their 48 regular season victories.
Boston will look to put their 7-point game 2 1st quarter behind them. The lowest scoring quarter in Celtics playoff history.
The Green have struggled to get a hot start going this entire series as they continue to find themselves trailing the 4th seed Atlanta Hawks early. Scoring is Boston's big issue when it comes down to it as the Hawks that also finished with 48 wins this season, are not playing spectacular basketball either.
Eastern Conference Round 1 Stats
Points: Boston (86.5) Atlanta (95.5) 
FG %: Boston (34.2) Atlanta (39.9)
Rebounds: Boston (46.5) Atlanta (51)
Assists: Boston (21.5) Atlanta (21.5)
Despite the injury losses of SG, Avery Bradley and C, Kelly Olynyk, Boston still remains in this series as a win tonight can most defiantly turn things around and build some much needed momentum which is something that this team has lacked.
Head Coach, Brad Stevens is still seeking his first playoff victory as head coach of the Celtics. We all know how Boston's playoff stint ended last season and a loss tonight could very well put the Celtics in position of a repeated 1st round sweep.
These next 2 games could very well play into Danny Ainge's and the Celtics offseason. Ainge will look to make a pitch to big name free agents such as 2013-14 MVP, Kevin Durant and rebound machine, Andre Drummond. A second consecutive sweep could very well make it difficult for the GM to convince free agents that Boston is the place to be. It's very unlikely that these big name veterans will look past Boston's failures and join.
However if Boston manages to take this series to 7 games of even win, then Ainge could make the case that this young Celtics team is a star away from becoming legitimate contenders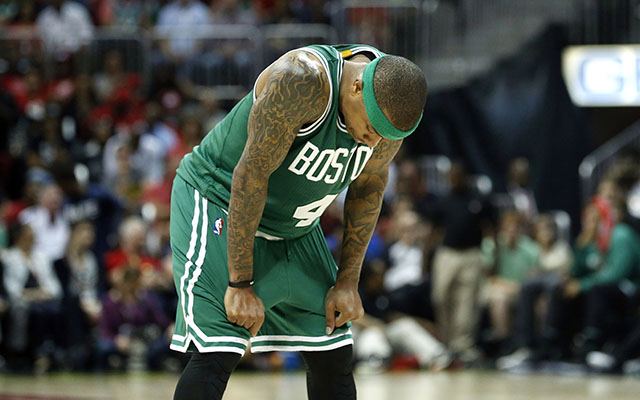 in the weak Eastern Conference.
It all begins tonight for the C's as they'll need to get started fast and improve their 17.9% 3-point percentage, an area in which they'll miss SG, Avery Bradley and C, Kelly Olynyk who shoots 40% from the three.
Olynyk has not yet been ruled out for game 3 but is listed as questionable.
Boston will also need to step up on the defensive end, most specifically, stopping Jeff Teague.
In game 1, Teague totaled 24 points while in game 2, he scored 13.
This is another area in which Boston misses their elite team defender, Avery Bradley.
Brad Stevens will likely look for G, Marcus Smart to fill in that defensive role and stop Teague which PG, Isaiah Thomas has struggled to do.
These last remaining series games are more significant then many may think not just for the Celtics survival from elimination, but for their future of rebuilding.
Game 3 against the Hawks starts at 8:00 PM at the TD Garden.